Angola is a country of contrasts.
Angola covers a large area - it is the second largest country with Portuguese as its official language in terms of size and population. It has enormous resources, rich in hydrocarbons, gold, diamonds, valuable wood, water and fertile lands – and it has some of the most beautiful landscapes in all Sub-Saharan Africa. For example, Maiombe Forest is the second largest in the world, and the Leba Mountain Range, with its twisting road is perfect for appreciating the surrounding breath-taking landscape.
It is still a country that is struggling to emerge from its chronic poverty into which it fell after the civil war. Which sent the country into an economic and political turmoil between 1975 and 2002. Thankfully, since the start of the 21st Century a relatively stable political situation has emerged, which has allowed the re-establishing of institutions and provided the stability for business growth, which in turn has turned the countries fortunes around, and provided some level of prosperity for the country and its people.
Tips for traveling in Angola
There are many challenges to travelling with your car hire in Angola, namely the state of the roads, but that of which, also provides the opportunity to discover stunning remote areas at your own pace. The country borders The Democratic Republic of Congo, Zambia and Namibia, it also has the beautiful south Atlantic coast running along all its western coastline.
We remind you that upon hiring a car in this country, it is important to be aware of the type of trip you are looking to undertake. If you do not plan to leave Luanda, its capital city, a standard city car would suffice. However, if you are considering visiting the great Angolan landscapes, we would recommend an SUV or a 4x4 vehicle due to the below average state of the roads. Those of which may bring unexpected circumstances if you aren't driving an appropriate vehicle up to the challenge.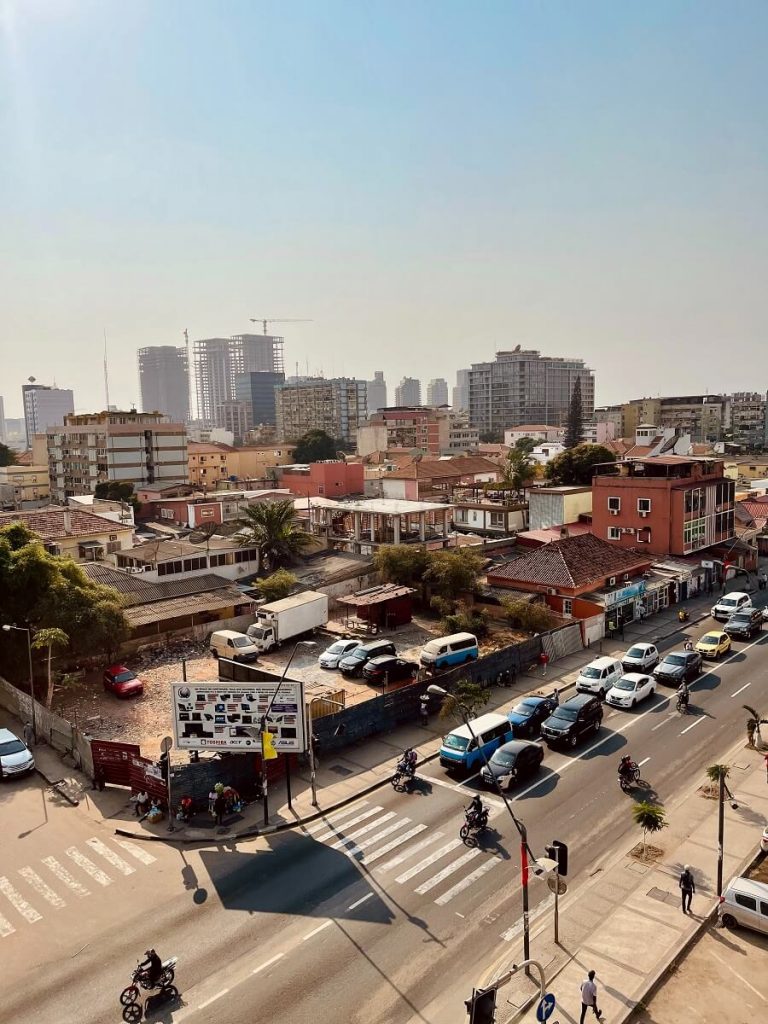 If you are collecting your car in Luanda, you can learn more of the extensive heritage Portugal left in the country. Throughout the city, various museums exist, which are worth a visit – namely, the National Museum of Slavery and the National Museum of Anthropology – both of which provide a broad insight into Angolan history and culture.
There also exists lots of traditional churches and fortresses to discover, with the Bay of Luanda providing extensive parking opportunities for your vehicle. You can then go and relax, whilst overlooking the Atlantic Ocean.
Continue your journey to the Kissama National Park, located around 70 km from the capital. Presently the only operative national park in Angola. Once home to an extensive array of large animals, its population diminished substantially during the civil war and due to illegal pouching. Regardless, it is still considered to be an important wildlife reserve.
How to hire a car in Luanda
It is important to keep in mind some basic tips for when hiring a car in Luanda, and what to be aware of when driving in the city. Firstly, in order to drive in Angola, you must have a visa – which you can order online – and a valid driving licence from your country of residence, with an accompanying international driving licence. Generally, the minimum age to collect your hire car is that of 18, but this may vary between car rental suppliers and locations – it is also common practice to add a maximum age limit. In both cases, an additional fee may be imposed for anyone considered a young driver or senior driver. When you book a car on the Auto Europe website, you can easily read all the terms and conditions of your rental before confirming your reservation. If you still have any concerns, you may call the number presented on the website to talk to a reservation agent.
Driving rules and regulations are like those of other countries. Driver's must drive on the right-hand side, and always use their seatbelts. Above all, within cities, drivers must obey all speed limits in order to avoid accidents, especially due to the amounts of people crossing the roads.
You should never leave valuables on show inside the car, not even when you are in the vehicle itself. Avoid parking your car on the street during the night, instead, either leave it at your hotel car park, or on a local well-lit road.
Petrol stations in Angola are generally open from 8am until 8pm – very few petrol stations, those located in major cities and on major motorways, are open 24-hours per day. As there are no toll booths in Angola, the only reason you would need to stop your car, is to either fill up on petrol, or to take some great photographs.
The problem with getting around Luanda
When you hire a car in Luanda, you should try to avoid highly congested areas or morning and evening rush hour. Inner city traffic can be very hectic, namely due to the lack of traffic lights and road signage. This is further made problematic due to the absence of driver etiquette whilst on the roads (who frequently double or triple park), and pedestrians who often carelessly cross the roads. Due to this, accidents are commonplace and a daily occurrence. These often cause further congestion, especially at major roads into the city centre.
Hire a car in Angola with Auto Europe and choose from a large modern vehicle fleet from any of our local trusted car rental suppliers. Experience our highly rated customer service, together with the some of the very best car rental rates – those of which only a broker with over 70 years global car hire industry experience can give.
Enjoy yourself in Angola with Auto Europe - your travel partner.