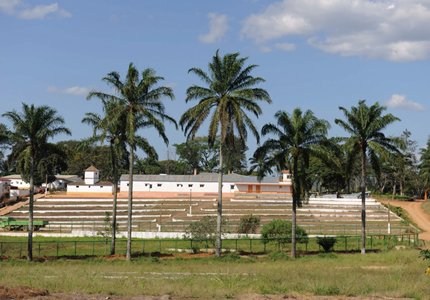 Hotel Fazenda Cabuta
Category: Farm hotel
Address: Cabuta, 25km after Vila de Calulo, Libolo
Province: Kwanza-South
Contacts: +244 917910000
reserva.orgritzangola@gmail.com
dcomercial.orgritzangola@gmail.com
Web site:
www.org-ritz.com/resorts/hotel-fazenda-cabuta/a-fazenda
Bedrooms: 48 Rooms
Services: Restaurant, Bar, Gym, Internet
The Hotel Fazenda Cabuta is located in the beautiful farm of the Bela Negra coffee shop, with all the amenities of its modern bungalows.
At Fazenda Cabuta, you can enjoy the tranquility that rural areas offer and the tranquility and hospitality with which its people welcome visitors.
At the same time, we will be able to delight ourselves with the magnificent view over the immensity of the African landscape that can be enjoyed from the viewpoint of the Fazenda, which will dazzle every tourist.
Also take a tour of the cave and observe the animals, completing this great experience of enormous quality and comfort.