The Venice Beach Pizzaria is covered with a totally relaxed concept and design in relation to the gastronomic options found, as mentioned above, commonly in the Luanda Island.
We don't take advantage of anything, but Venice's pizzas are finger-licking, if you're in doubt, pay a visit to the space.
The Venice Beach Pizzeria Space 
Venice Beach Pizzaria has a design worthy of the place and environment in which it is located. With a decoration characterized by denim fabric and surfboards to perfect the relaxed detail, the Venice makes mention of the fact that it is located a few meters from the sea.
It also has outside seating to enjoy the sea breeze, watch the beautiful moment when the sun kisses the sea and be even closer to the natural environment that characterizes it.
Venice Beach Pizzaria is the perfect space to spend a Saturday afternoon with the family, with good music, a great meal and close to the natural climate it provides.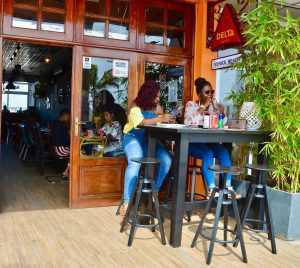 Food and Drinks
Is it possible for someone to wonder what Venice Beach Pizzaria has to offer its customers in terms of "food?". Well, we believe so, but the answer is: pizzas.
Yes, pizzas, of the most different types and seasons. Venice offers a menu characterized by the name it carries.
The menu features 4 adult pizza stations in medium and large sizes. The medium size has 6 slices, and the large one has 8 slices: Daisy, Venice Bacon, Tuna and Havaiana, these are the ones.
And as if that weren't enough, Venice also has a menu for Kandengues, with 2 flavors of pizza.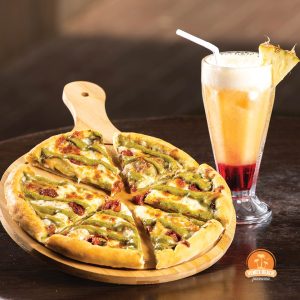 The pizza that bears the name of the space, Venice Bacon, is made up of bacon, of course, black olives, onions and lots of cheese. Venice Bacon is a pizza with a high, fluffy crust and a very mild flavor.
If it were just a matter of eating..., clearly Venice thought about what to present as a liquid proposal to accompany the meal: you can opt for the famous Passion Fruit Daiquiri to refresh the afternoon or, ideas. The space has other drink options, so just choose the one that best identifies with you.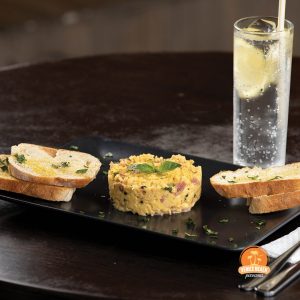 The space has free parking and free Wi-Fi. In terms of location, we emphasize that Venice Beach Pizzaria is located on Ilha de Luanda. Go visit.
Ah, we couldn't leave good manners aside, so bon appetit!