This is a space full of refinement, with a pleasant atmosphere for guests and clients. Well, we are talking about guests because this modern restaurant is located right on the fourth floor of the Ilhamar hotel.
Hotel Ilhamar is located in Cape Island, in Sector Lello, a few kilometers away from Largo da Peixeira.
Returning to Restaurante Jaspe, it is important to note that the space has three completely different environments: conveying a much more reserved, super elegant and romantic atmosphere, we see the atmosphere it provides right at the entrance, from the interior of the terrace.
The external areas offer two perspectives, one towards the sea, which for lovers of sunsets is magnificent and perfect, and the other towards the Bay of Luanda. Jaspe offers customers not only a beautiful and pleasant view, but a suggestive menu.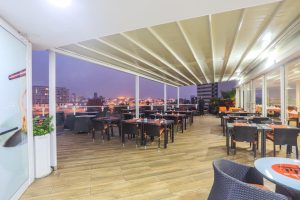 Jasper Restaurant food
Feeding the eyes with a view is pleasant, but the stomach can be jealous.
Restaurante Jaspe has a suggestive menu for everyone, from meals from our country to those from around the world.
The menu offers, among the many options, the Cheese Board. For cheese lovers, the Cheese Board comes with a wide variety of cheeses, ham, sliced fresh fruit, guava and orange and strawberry to balance the intense flavor that cheese has.
Going a little more towards the Asian palate, Jaspe has Sushi on its suggestive menu. You can also choose the Fish and Seafood Cataplana from Pescador. 
Restaurante Jaspe is an ideal space to be with friends, family or even choose a more intimate moment with your partner. After all, it has a romantic and suggestive air for "lovers".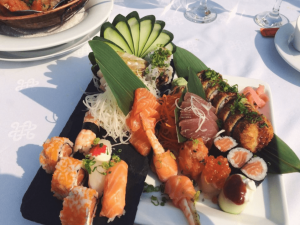 Drinks Card
Eating without drinking something is not an option for everyone. Don't leave Jaspe without tasting the Cosmopolitan, a cocktail based on Vodka, Triple Sec, Lemon Juice and Passion Fruit.
Restaurante Jaspe is classified as a restaurant that ensures excellent and dynamic service. Comprised of competent staff, Jaspe is a reference when it comes to restaurants in the Cape Island area.